WEILER E-Series
For Fast and Simple Communication between Man and Machine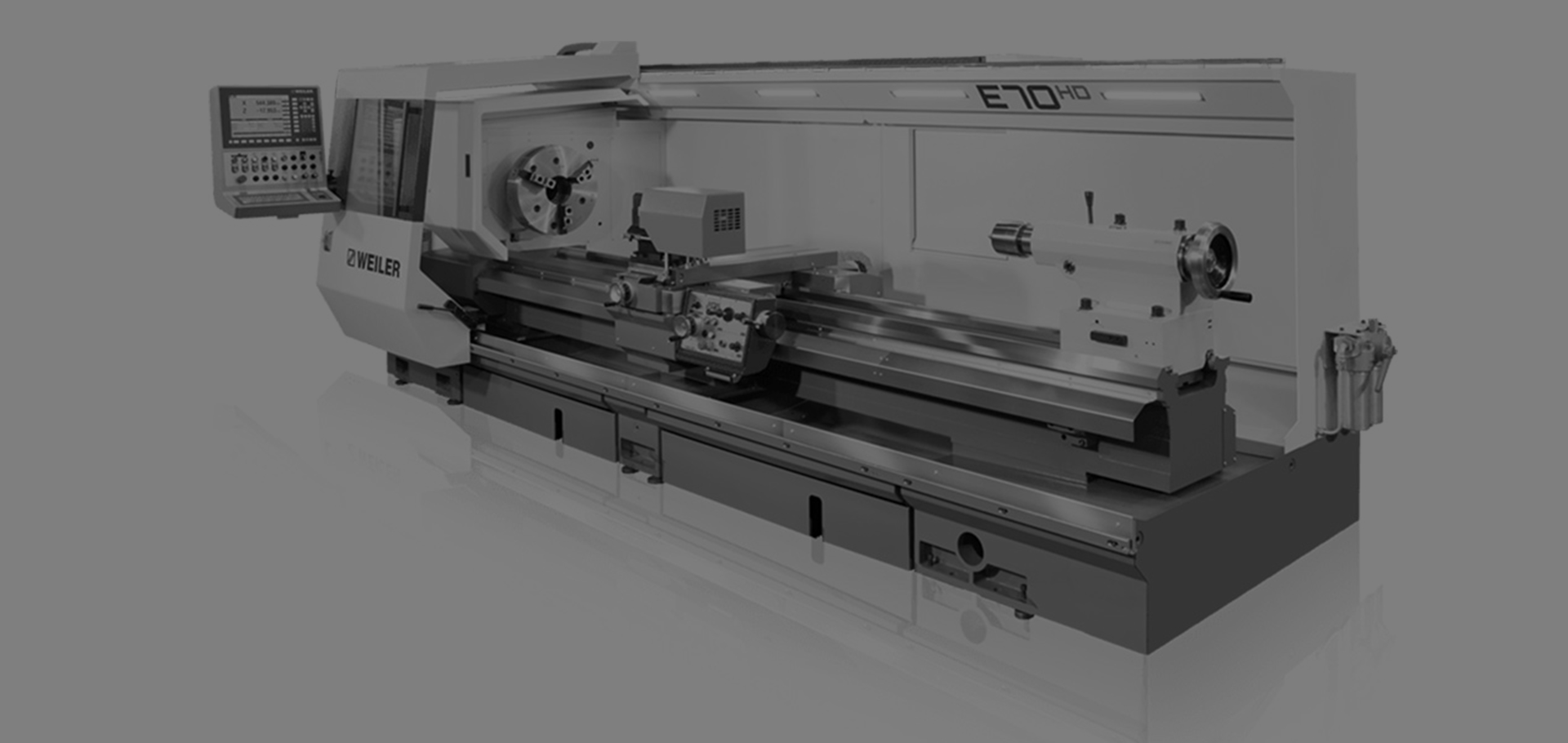 High turning performance in production, tool making, repair and maintenance with:
More efficient processing of simple workpieces
Faster processing of elaborate workpieces
Simplified processing of complex workpieces
The Weiler E-Series ergonomics, user-friendliness and long-term precision are the basis for fast and faultless results. The unsurpassed and easy-to-use WEILER developed graphical user interface (GUI) makes them unique. This allows a number of cycles that are stored in the controller to be called at the touch of a button. These can then be run either individually or as part of an automated sequence. The returns for the user are shorter programming times and extremely efficient one-off and small batch production.
Each E-series machine can replace up to three conventional machines. There is also maximum efficiency in the power consumption through effective use of the latest energy-saving drives.
Automated Cycles for:
Cutting, Threading, Grooving, Drilling, Milling
Programmable Workpiece:
Countour with cutting cycle geometry, automatically calculating the points of intersection
Manual Turning
Taper Turning at any angle, Radius turning, Turning against the stop on all axis, Orientated
spindle stop, Constant cutting speed
Storable Cycles
The Weiler E-Series Collection
The Weiler Facts
Designed & Built in Germany
WEILER is the Pioneer-Inventor of Cycle-Controlled Turning and has led the world in this technology since 1985. Our experience, quality-consciousness, and "User-First" mentality has kept our machine functionality and conversational interface ahead of all others. Let our 78 years of lathe-building expertise reap benefits for you in user productivity and every-day operation.
Proprietary Thread Chasing Intelligence
All cutting cycles are designed to simplify tasks of the machinist. Picking up and re-cutting threads for example doesn't get any easier. Define the pitch, length, and number of passes; walk the tool into the
thread – X&Z positions are indicated; press button to reference spindle angle C; then press Cycle Start! In Thread Recut Cycle the operator can further adjust the tool during the cutting cycle to eliminate chatter.
Engineered For Speed
From the very beginning WEILER'S goal was to make jobs easier for the Operator. That's why the machine is so versatile and ergonomically oriented. Set-up is fast, and first cuts are made quickly.
From repairs to one-offs and batch production, the wide range of Automated Cycles, Cutting Strategies, and Tool Selection mean the user is not boxed into just one way of doing things – he chooses what works best. Fast, Efficient, User-friendly – WEILER E-Series Lathes optimize output!
The Weiler Experience
We've noticed an uptick in production and we have less rejection on parts through our QC procedure.
We have two Weilers on the floor right now that we purchased new, and we are very impressed with the equipment. One of the deciding factors [in purchasing Weiler] was obviously precision machining. We've noticed an uptick in production as well, and we have less rejection on parts through our QC procedure.
We have also noticed that the operators really like running the Weiler. The machines are very user friendly and precision oriented.
Another thing that the operators really like about the machines is that they are hybrid. We can run the Weiler machines in manual mode and we can also run them in CNC mode for manufacturing parts, which is something we've had problems with in the past. You don't make any money running manuals manufacturing consecutive parts, which is where the CNC's pick it up here quite a bit for us. What also really impressed us about Weiler is the customer support. They brought in technicians from Germany to train our guys and were very helpful in setup to get our guys moving on the equipment. The customer representative was here for three days. Within the first two days the boys had a good grasp on the system itself, and the third day was basically trouble shooting. Within the first week [of having the machine installed] the boys were up and running. It was very easy for the guys to catch on. I had one manual machinist who has never operated a CNC before, he was a bit slower catching on but he did grasp the concept very nicely. These machines [the Weilers] are very very user friendly.
We are very impressed with Merchant Machine Tools, the move on the equipment was flawless. They were in and out within two to three days per machine.
Also what we like is that we were able to trade in our old machines and they are jumping to the front to sell them for us. Merchant Machine Tools is a very customer orientated company. They answer to the first phone call and are usually here within the day.
If we ever go for expansion we probably will be staying with the Weiler machines.

Karl Schmidt, Service / Shop Manager (Inspection & Repair)
Maximum Oilfield Inspections Services